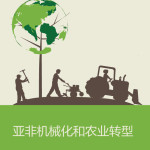 国际食物政策研究所(IFPRI)和北京大学国家发展研究院将于6月18日在北京大学举办主题为"亚非机械化和农业转型"的发展经验研讨会。近来农业机械化成为非洲国家关注的新兴话题。相比非洲,亚洲国家的机械化进程开始时间早,并且自20世纪80年代后期飞速发展。
这次研讨会旨在促进南南知识交流,让各国研究人员,决策者和私人企业家交流亚非国家机械化与农业转型的经验与教训。会议的重点之一是探讨小型农户主导的国家里,私营企业对可持续农业机械化发展的支持作用。
The International Food Policy Research Institute and The National School of Development at Peking University are jointly organizing a workshop on agricultural mechanization in Asia and Africa in Beijing.
Agricultural mechanization has recently become an emerging issue for Africa, while in many Asian countries the mechanization process started much earlier and has accelerated since the late 1980s.
The purpose of the workshop is to facilitate south-south knowledge exchange among national researchers, policymakers, and private sector participants for lessons and experiences of mechanization and agricultural transformation in Asian and African countries.
A particular focus will be on the role of the private sector in supporting sustainable agricultural mechanization development for countries in which small-scale farmers dominate.